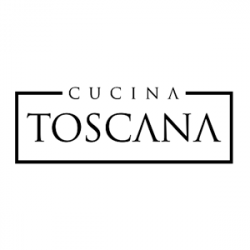 Latest posts by Cucina Toscana
(see all)
Regional Cuisine of Italy: Central Cuisine

Continuing the exploration of regional Italian cuisine, we travel to the central region. The expanse of Italy covers a diverse range of geography, with its edges bordering a number of other European nations. As a result, Italian cuisine reveals the influences of its neighbors and landscape. The cuisine of Central Italy is perhaps most familiar to Americans, with its staples of rich pasta dishes, meat sauces, olive oil, and internationally-renowned cheeses.

Emilia Romagna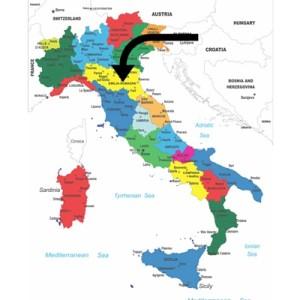 Emilia Romagna is situated just south of the Northern region of Italy and is a powerhouse producer of Italy's favorite items. Here you will find the famous dry-cured meats, such as prosciutto di Parma and mortadella, and the popular Parmigiano-Reggiano cheese. Perhaps due to its proximity to Northern Italy, cuisine in the Emilia Romagna region tends to be rich in flavor, with Bolognese sauce, tortellini, and the sparkling red wine Lambrusco Salamino di Santa Croce.

Tuscany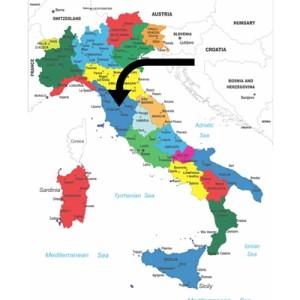 Tuscany, the namesake of our restaurant, has a long history as the hub of culture, thought, and the arts in Italy. Florence lead the way with the Renaissance, and the region is one of Italy's wealthiest. Tuscany is home to Michelango and the Medicis, and has produced poets such as Petrarch. Tuscany's cuisine is just as colorful, with its western edge bordering the sea. It has been argued that the heart of Italian cooking resides in Toscana, due to the influence of court life. Roasted meats and velvety olive oils are staples in cuisine here, such Florence's alla fiorentina steak. Seafood dishes are popular, with the fish stew cacciuccio alla Livornese in the forefront. In terms of wine, Tuscany is the producer of the well-known Chianti.

Umbria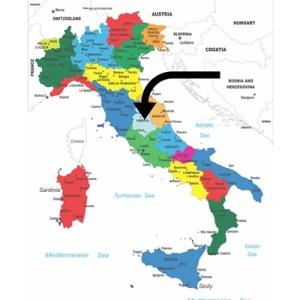 Umbria is best known for their black truffles, and the nature of this region's landlocked geography produced a bounty of agricultural produce and appreciation of land animals. Situated between Tuscany and Lazio, Umbria cuisine is known for pecorino cheese, as well as egg-based pastas and a wide variety of prosciutto and salami. Guanicale (salted, cured pork cheek) is a specialty here, as well as polenta.

Marches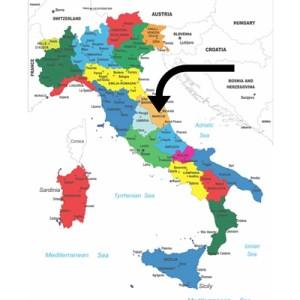 Between Umbria and the Adriatic see, we come to the Marches. This region's proximity to the ocean shows the influence of seafood with the fish stew brodetto and an accompanying white wine to pair. The Marches also produces an Italian favorite, the stuffed olive, which is fried with egg and bread crumb. Caves in the region lend their flavor to sheep's milk, while meats are generally prepared in the porchetta style, with fennel, garlic, rosemary, tomato, and white wine.

Lazio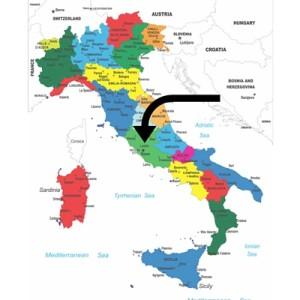 Rome is found in the Lazio region, which produces international favorites such as spaghetti alla carbonara, gnocchi alla Romana, bruschetta, and the comforting bread dish panzanella. Cuisine here is influenced by both pastoral and city life, with rustic preparations of rubbing garlic directly on bread to coal-fired meats. Lamb and pork are staple meats to the Lazio region, with simple pastas prepared of flour and water.

Abruzzo and Molise
In nearby Abruzzo and Molise, between the mountains and the Adriatic Sea, we find cuisine with diverse meats from mutton to pork to red mullet. Here, we will also find pecorino, prosciutto, and a refined olive oil. Rustic, handmade pastas and cheese and egg dishes are popular in this region, as well as dry white wines to complement the bounty of seafood.